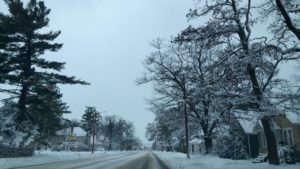 Winter can be messy, not to mention cold. I was heading up the mountain to Somerset a few weeks ago and got behind a coal truck. The road was dirty and slightly wet from the salt and melting snow. The combination made the car's windshield wiper fluid my MVF—-Most Valuable Friend. There was just enough mess on my windshield that I needed to use the wipers occasionally. Unfortunately, the wipers made the mess even worse. Have you been there? Since being able to see the road comes in handy while driving, I needed that wiper fluid desperately.
Life gets messy too, doesn't it? As Pastor Chris frequently reminds us at Charter Oak Church, "everybody's dealing with something." In the middle of our mess we sometimes take charge, turn on the windshield wipers, and make an even bigger mess. As I was driving up the mountain that day, it occurred to me that the wiper fluid is symbolic of Jesus in the lives of His children. He's our MVF and more! When we confess Him as Lord and Savior of our lives, He cleans us up.
"he saved us, not because of the righteous things we had done, but because of his mercy. He washed away our sins, giving us a new birth and new life through the Holy Spirit."                                     Titus 3:5 NLT
But He doesn't stop there.
Without the wiper fluid that day, I would have been hard-pressed to stay on the road. At times I could barely see through the mess on my windshield. When the "somethings" in our lives cloud the path, Jesus stands ready, willing, and able to show us the way.
"The Lord says, "I will guide you along the best pathway for your life. I will advise you and watch over you."                                       Psalms 32:8 NLT
There's a little more to the story.
I had windshield wiper fluid that day, but without my pressing the button to activate the pump and wipers, it would have done me no good. Similarly, we play a role in activating Jesus in our lives. We must seek Him and His guidance. Care to join me?
"Show me the right path, O Lord; point out the road for me to follow."                                                                                                    Psalms 25:4 NLT