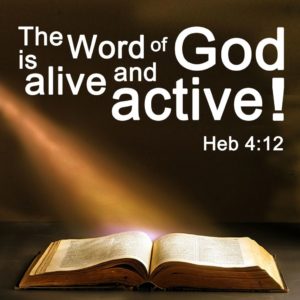 Earlier this semester I was teaching my students how to solve and graph the solution of compound inequalities and found myself repeatedly saying, "It's all about the word." I'll spare you the math lesson and just tell you that a compound inequality is two simple inequalities joined by the word and or the word or. That word happens to have a huge impact on the solution set.
As I was teaching this lesson and heard myself repeating that same sentence over and over, I heard His still small voice whisper, "That's right, Polly, it IS all about the word—MY word." Just as AND or OR has a dramatic effect on the solution set of a compound inequality, God's word has that same potential in our lives.
"For the word of God is alive and powerful. It is sharper than the sharpest two-edged sword, cutting between soul and spirit, between joint and marrow. It exposes our innermost thoughts and desires."                                                                                                        
Hebrews 4:12 NLT
When we get into God's word, His word gets into us. It is potent enough to stir our souls and bring about change in our lives. Through His word, we can learn who we are as well as who and what we are not as it cuts to the very core of our being. As His word works in us, we'll be faced with decisions:
"Do not merely listen to the word, and so deceive yourselves. Do what it says. Anyone who listens to the word but does not do what it says is like someone who looks at his face in a mirror and, after looking at himself, goes away and immediately forgets what he looks like. But whoever looks intently into the perfect law that gives freedom, and continues in it—not forgetting what they have heard, but doing it—they will be blessed in what they do."  
James 1:22-25 NIV
Have you noticed that doing the right thing is often also the hard thing? We can simply listen to God's word or we can act on what we hear and apply it to our lives. The latter requires far greater effort, but the payout is worth it. The result of applying His word to our lives—we look more like Jesus! Isn't that the goal?
I'm suddenly reminded of something else I've been known to say to my students regarding their effort—you get out of it what you put into it. Ugh…looks like I'd better take my own advice!