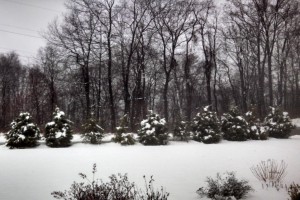 A fresh coat of snow on the ground, Christmas music playing on the radio, Rudolph on TV—it's beginning to look a lot like Christmas Thanksgiving??  I know with Thanksgiving being so late this year it allows less time for the Christmas preparations, but let's not lose sight of Thanksgiving as a result.  I'm as guilty of looking ahead as the next person.  It is my prayer that we all pause and take time to reflect on our many blessings as we celebrate Thanksgiving, no matter what that day might look like for you.
The apostle Paul says in 1 Thessalonians 5:18 to "give thanks in all circumstances, for this is God's will for you in Christ Jesus."   How is that going for you?  I will confess that I am a 'cup half empty' person—more likely to grumble than praise.  That is my natural inclination.  It takes a concerted effort on my part to focus on the good and not get caught up in the bad. Can you relate?  Maybe you have discovered, just as I have, that it is well worth the effort.  Positivity breeds positivity and produces a big, beautiful snowball!
I have wrestled with this idea of giving thanks in ALL circumstances.  Let's face it, bad stuff happens, stuff for which I do not feel thankful.  How about you?  Have you suffered a loss lately—loss of health, loss of a loved one, loss of your job, loss of a relationship, loss of _______(fill in the blank)? I'm guessing so.  Are you thankful for it? Me either.  So how are we to live out this verse?  I'd suggest reading it closer.  I believe the key is found in one little word.  It doesn't say give thanks FOR all circumstances, but rather IN all circumstances.  Why does one tiny word make any difference?  I believe it all goes back to one of my favorite promises in the Bible—And we know that in all things God works for the good of those who love him, who have been called according to his purpose (Romans 8:28).   The circumstance may not be good, but God is!  As His beloved children, we can be assured that He will use ALL of our circumstances for His glory and our good.  THAT is reason to be thankful!
While we offer thanks for our countless blessings on Thanksgiving, let's be sure to thank God for the good that comes from our difficulties, even if we can't yet see that good.
Have a blessed Thanksgiving!