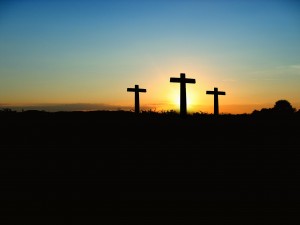 My pastor urged the church not to skip from Palm Sunday right to Easter and participate fully in the remembrance of Christ's last days and subsequent crucifixion during this Holy Week. As it turns out, remembrance became the overarching theme of the week. With my daughter's senior year of high school winding down, there has been a need to go through all our photo albums searching for pictures for a few projects that are in the works. As I told a number of people, I now have a steady stream of Throwback Thursday pictures to share! With each turn of the page memories flooded my mind from days gone by. Also this week, a friend and mother of another CDH baby posted a link to an article about congenital diaphragmatic hernias that took me back 18 years to a time of waiting and wondering what God had in store for our daughter who was diagnosed with CDH while in the womb. Throw in the movie "God's Not Dead" and the death of a cousin as well as two powerful church services for Holy Thursday and Good Friday and one might say it has been a week of emotional overload. It seemed at every turn God was telling me to remember.
On Thursday evening we took communion around a table just as the disciples did. And we remembered…
He took some bread and gave thanks to God for it. Then he broke it in pieces and gave it to the disciples, saying, "This is my body, which is given for you. Do this to remember me." After supper he took another cup of wine and said, "This cup is the new covenant between God and his people—an agreement confirmed with my blood, which is poured out as a sacrifice for you. (Luke 22:19-20 NLT)
On Friday morning I gathered with many relatives to celebrate the life of one of God's good and faithful servants. And we remembered…
Friday evening was spent reflecting on Jesus' crucifixion and death. The reading of Scripture was so powerful that in my mind I really could do as the choir sang and "hear the nails, feel the pain." He subjected Himself to that horrendous death for you and for me. He redeemed us by paying the penalty for our sins–past, present and future—so we could be in relationship with the Father. And we remembered…
On Easter morning, we will arise to the Good News—
The angel said to the women, "Do not be afraid, for I know that you are looking for Jesus, who was crucified. He is not here; he has risen, just as he said. Come and see the place where he lay. (Matthew 28:5-6 NIV)
And we remember once more…
The tomb was empty. He is risen indeed! Christ has defeated death. Through faith in Him we, too, can have the last word on death. We won't get a better offer!
Wishing you a most blessed and joyous Easter!
Dedicated to Beverly Hoover (3/10/39 – 4/16/14) and remembering all loved ones who have passed on to their eternal home.