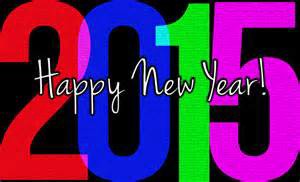 A time of reflection seems to naturally accompany the end of each year. This year is no different. Many are glad to part with 2014 because it was difficult at best. Others don't know how 2015 could possibly be better. I imagine the bulk of us have more ambivalent feelings regarding the new year.
We often think of a new year as an opportunity for a fresh start, a new beginning. This causes me to think of the fresh start we are granted the moment we accept Jesus Christ as Lord and Savior of our lives.
This means that anyone who belongs to Christ has become a new person. The old life is gone; a new life has begun! (‭2 Corinthians‬ ‭5‬:‭17‬ NLT)
This is a fresh start that far exceeds the changing of the calendar. Instead of a new year, you get a new you!! At conversion, we are no longer slaves to our sinful ways, but are made new through the shed blood of Christ.
New life—now THERE'S something to celebrate!!
The thief comes only to steal and kill and destroy; I have come that they may have life, and have it to the full. (‭John‬ ‭10‬:‭10‬ NIV)
Praying that each of you experience the abundant life that He came to give in 2015 and beyond—Happy New Year!