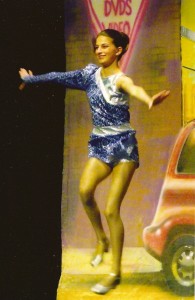 Now King David was told, "The Lord has blessed the household of Obed-Edom and everything he has, because of the ark of God." So David went to bring up the ark of God from the house of Obed-Edom to the City of David with rejoicing. When those who were carrying the ark of the Lord had taken six steps, he sacrificed a bull and a fattened calf. Wearing a linen ephod, David was dancing before the Lord with all his might, while he and all Israel were bringing up the ark of the Lord with shouts and the sound of trumpets. (2 Samuel 6:12-15 NIV)
With my daughter's last dance recital on tap (pun intended) for this weekend, I have dancing on my brain. It brings to mind the story of the Ark of the Covenant being transported to Jerusalem. The first attempt ended in failure when the oxen stumbled and Uzzah reached out and grabbed hold of the ark. This irreverent act led to Uzzah's death, the plan was foiled, and the ark was temporarily housed by Obed-Edom. The scene described in the passage above is the second attempt at taking the ark to Jerusalem. Maybe the celebration was bigger due to the failed first attempt, but there is no question that this was a BIG deal in the life of David and the Israelites. I can picture this event in my mind and see David's affection for God in his dancing. It must have been evident to his wife as well, but apparently it made her angry and filled with contempt towards her husband. Perhaps she didn't like taking a back seat to God in David's life??
Though I'm not much for dancing, it seems to be one of my daughter's gifts. She has taken dance lessons since kindergarten and I've loved watching her progress through the years. Her movement is perfectly timed and a beautiful display of grace. She puts her heart and soul into each move just as David did.
Shouldn't we all learn something from this account of David? Maybe you're like me and aren't much of a dancer. No problem. I think the lesson is more about praising God and less about the dancing anyway. David didn't hold anything back in his expression of joy and thanksgiving towards his Heavenly Father. God deserves our praise and honor too. Let us celebrate who He is and all He has done for us in the past, present and all the days to come!
Praise the Lord. Praise God in his sanctuary; praise him in his mighty heavens. Praise him for his acts of power; praise him for his surpassing greatness. Praise him with the sounding of the trumpet, praise him with the harp and lyre, praise him with timbrel and dancing, praise him with the strings and pipe, praise him with the clash of cymbals, praise him with resounding cymbals. Let everything that has breath praise the Lord. Praise the Lord. (Psalm 150:1-6 NIV)