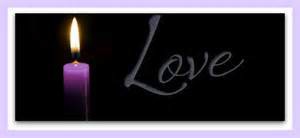 This past weekend, we lit the 2nd candle on the Advent wreath, the candle of love. The first verse that comes to mind when I think of God's love for us is the all-familiar John 3:16….
‭‭For this is how God loved the world: He gave his one and only Son, so that everyone who believes in him will not perish but have eternal life. 
For further explanation, let's continue reading the next verse…
"God sent his Son into the world not to judge the world, but to save the world through him." John 3:17 NLT
That's some serious love, perfect even! I can't speak for you, but I find it quite humbling to think He would go to such great lengths for me. Without the shed blood of Jesus, we are dead in our sin. As I mentioned in my last post, God knew all along that His people had a sin problem and were in need of a savior. His answer…
"For God made Christ, who never sinned, to be the offering for our sin, so that we could be made right with God through Christ." ‭‭    2 Corinthians‬ ‭5:21‬ ‭NLT‬‬
"This is real love—not that we loved God, but that he loved us and sent his Son as a sacrifice to take away our sins." ‭‭     1 John‬ ‭4:10‬ ‭NLT‬‬
That's quite a solution, don't you think? It's one that demonstrates that His love knows no bounds. As a parent myself, there is nothing that touches my heart quite like the thought of God sacrificing His one and only Son, Jesus Christ, to save us, His broken people, from our sin.
Only Love would give something priceless in exchange for something worthless. He did it for me. He did it for you. He did it for ALL who believe. Unto you. Unto me. Unto us. A Son was given.