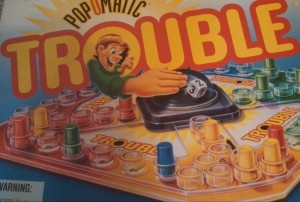 "I have told you these things, so that in me you may have peace. In this world you will have trouble. But take heart! I have overcome the world."
(John 16:33 NIV)
Have you experienced any trouble lately? You bombed the test in school today. The snowblower broke with 10″ of snow in your driveway. Someone hurt your feelings. The lab test came back positive. The check bounced.  The list is endless, isn't it? We were warned by Jesus that there would be trouble. He didn't say IF we have trouble, but that we WILL have trouble.
When I think of the word trouble I can't help but think of the board game by the same name that we played with the kids growing up. You had to roll a 6 or a 1 to get a pawn in play and then had to race your pawns around the board and get them all safely home before your opponent(s) did. The trouble came when an opponent landed on your space and knocked you back to start. I wish that was my worst trouble, don't you?
Trouble comes our way in a varying degree every day. My latest trouble came in the form of a setback in my quest to get well these past few weeks. I will admit that this has shaken my faith. Nothing tests your faith quite like a large helping of trouble! I am fortunate to have found a lovely Christian doctor that not only won't give up her search for a solution, but also encourages me along the way. When she sensed my discouragement last week she explained that this was only a bump in the road. (It looked more like a mountain to me) Her advice was to keep my head up, where it belongs. That brought the story of Peter walking on water to mind.
"Yes, come," Jesus said. So Peter went over the side of the boat and walked on the water toward Jesus. But when he saw the strong wind and the waves, he was terrified and began to sink. "Save me, Lord!" he shouted. Jesus immediately reached out and grabbed him. "You have so little faith," Jesus said. "Why did you doubt me?"              
(Matthew 14:29-31 NLT)
That's what happened to me last week. I looked down and started to sink! I shall heed my pastor's advice from his most recent sermon series and fix my eyes on Jesus. That requires keeping my head up, just as my doctor advised.
Therefore, since we are surrounded by such a great cloud of witnesses, let us throw off everything that hinders and the sin that so easily entangles. And let us run with perseverance the race marked out for us, fixing our eyes on Jesus, the pioneer and perfecter of faith. For the joy set before him he endured the cross, scorning its shame, and sat down at the right hand of the throne of God.
                                                                              (Hebrews 12:1-2 NIV)
Jesus overcame far worse trouble than any of us will ever experience and He did it so that we, too, can live in victory. As my Aunt Judy says at the end of all her written correspondence… "Keep lookin' up!"